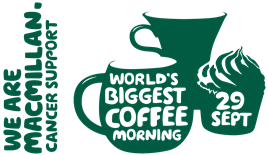 15 September 2017
As Parental Involvement Worker I want to provide lots of ways for you to get involved at St Edmund's, in the life of the school and in the learning process of your children. Being part of your child's school day has a significant impact on your child's experience of education.
As usual there are lots of activities for families going on at St Edmund's throughout the term that you are welcome to join in with – story time on Mondays and Thursdays 8.45 to 9.15am and 12.45 to 1.15pm, and singing sessions on Wednesdays at 8.45am and 12.30pm. Please come and join in!
Lending Library
The lending library is open during story times (Mondays and Thursdays at 8.45 and 12.45). We have lots of lovely resources available to borrow.
Macmillan Coffee Morning
On Friday 29th September we are holding a Macmillan Coffee Morning to raise money for cancer support. Drop in between 9.00 and 11.00 am, or 12.45 and 2.30 pm for coffee and cakes.
Facebook
We are in the process of setting up a Facebook page for our nursery school, to let parents know about what is going on, and to celebrate our children's achievements. If you are on Facebook, why not follow us? Search for "St Edmund's Nursery School", and like the page or click here: www.facebook.com/St-Edmunds-Nursery-School-103771847013734/
School photographs
The school photographer will be here on Friday 6th and Monday 9th October for family and individual photos.
New Number Sacks course starting 21st September
Number Sacks is a 10 hour course to introduce parents with young children to lots of fun ways to incorporate maths into everyday life. The Number Sacks course will run every Thursday morning 9 - 11am from 21st September. To book onto the course, speak to a member of staff or call the cluster office on 01274 544922.
Us, Our World, Our Community Week will run from Monday 16th to Friday 20th October. Watch out for information about fun events coming soon.
Don't forget that this year's holiday dates, along with lots of other useful information, can be found on our website www.stedmundsbradford.org.uk.